FWAH! GRASS! Australian Lemon Scented Grass Gin
Open media in modal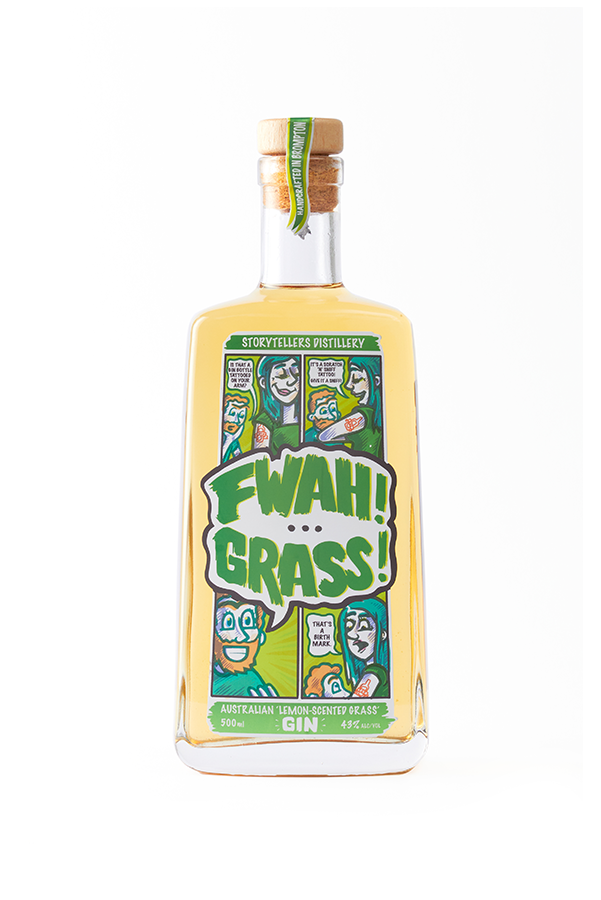 Open media in modal
FWAH! GRASS! Australian Lemon Scented Grass Gin
Introducing FWAH! GRASS! - our limited edition lemon-scented grass gin!

FWAH! GRASS! is the first of it's kind in the world! It begins it's life as a blank canvas of gin traditionality from which we throw the bright golden paint of Australian Native Lemon Scented Grass (Cymbopogon Ambiguus)
Used in the past as a popular native herbal tea, FWAH! GRASS! showcases the native flora of Australia with strong notes of traditional lemon and hints of tannin and menthol all from this magical grass.
Each bottle was lovingly designed by Storytellers Distillery in conjunction with professional illustrator Gabriel Cunnet whose fun attitude spills over the tone of the label and shouts out to Storytelling in the form of comical scenes portrayed. 
With this limited batch release product, Juniper, coriander seed, orris root and Native lemongrass is all we need to tantalise your taste buds and have them expressive with your first sip FWAH! .. GRASS!

Volume: 500ml
ABV: 43% alc/vol